People and Places

The main areas where the work of this ministry is taking place are at Chiphazi in the Dedza District (where Julian and Caroline are based, with John and Betha), and the Msundwe area west of Lilongwe. These areas are both within the central region of Malawi. Since setting up the Village of Light Community in 2011, the leadership team has been developed to include Alexander and Harrison. This team have established new churches in the villages of Mphalale, Thom, Bisketi, Lifu and most recently Tsumba. Additionally, the team have links with a group of churches in a remote region within the Nsanje district to the far South of Malawi.

The map below offers a guide to these key operations in Malawi and identifies the main leaders in each area. Our regular newsletter updates progress with the work in these areas.

 

Julian and Caroline Lott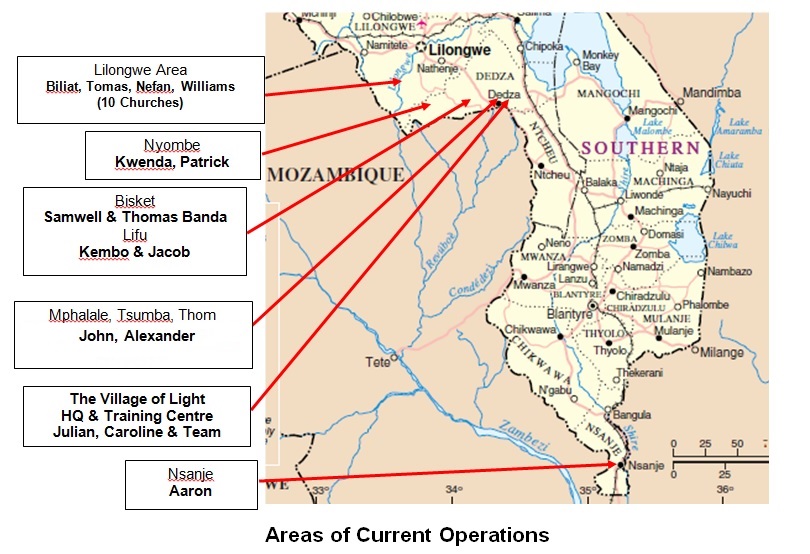 BISKETI, LIFU, TSUMBA – Youngest branches in the Dedza region.
LILONGWE AREA – A group of 10 churches planted as part of the original work by Julian and Caroline between 2002 and 2008. Now thriving under the oversight of Biliat, Tomas, Williams and Nefani.
NYOMBE – A church planted by Julian in 2007 from Lilongwe. Now led by Kwenda and Patrick.
THE VILLAGE OF LIGHT (CHIPHAZI FARM) – when Julian and Caroline and John and Betha moved to Dedza in 2008 they were eventually led to purchase a rundown farm of approximately 15 acres on which to establish homes for the team to take orphans and demonstrate sustainable farming while growing crops to support the orphans. This area was originally known as "Nodza" (taking its name from the mountain) – it meant "Bewitched"! Julian talked with the chiefs of the area and suggested a name change to "Village of Light" – this was accepted and the farm is now known as "The Village of Light", a Christian community. At the end of March 2012, they were joined on the farm by Cameron and Victoria and their children. Cameron and Victoria played a very important and valuable part in the work before leaving early in 2018.
MPHALALE – A major church plant in the large village of Mphalale next door to the farm at Chiphazi.
MKHALA – A church just across the border from Dedza in Mozambique, under the leadership of David and Patrick.
NSANJE – A group of independent churches in the far South under the leadership of Aaroni which has become a satellite branch of the work. Leaders from Nsanje attend conferences at Chiphazi.
MOZAMBIQUE – Linked with the Nsanje group are a number of churches just over the border in that part of Mozambique.
| | | | |
| --- | --- | --- | --- |
|   | John and Betha |   |   |